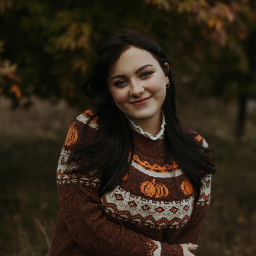 Aubrey Cramer
Astronomy & Physics / Cumberland, MD
About
What made you decide to attend the University of Maryland?
I come from a small town, and I never really had the opportunities that someone in a bigger city would have. When I decided what degree to pursue, I knew that branching out and attending a bigger university would allow me to grow and connect to my future peers and further develop as a person. I knew that UMD would guide me through what path to take and give me a place to expand my thoughts.
---
What major/career path do you plan on pursuing and how did you select that path?
My major is astronomy and physics. I want to go into observational research and possibly teach while pursuing my doctoral degree. Space and the universe are my biggest fascination. I know that in my lifetime I won't discover everything, but I do know that my findings will somehow better the world. I have decided that for the rest of my life I want to consistently learn to the highest degree and spread my knowledge.
---
What clubs, community service, campus activities, or hobbies are you currently involved in or plan to take part in?
I am a member of 4-H and have been an active member for 5 years. I was in a few honor societies as a high school student including, National, Spanish, Science, and Rho Kappa. I am currently not involved in any UMD activities, but I look forward to joining a few clubs this school year.
---
How has receiving this scholarship positively impacted your life?
I have never lived in a large town. I'm getting my degree while also being far from any support, especially financially. With this scholarship I can now focus on my studies, while not worrying so much about my financial stability. It has also helped me plan my future as I will have less of a burden post-graduation. I will also be able to see my family while being able to balance my education.
---
What are your future goals after graduation?
My plan is to finish my bachelor's degree at the University of Maryland. After that, I plan on obtaining my master's degree and later working on my doctoral degree. I cannot fully predict what I will be doing after college, but I plan on it being closely knit with NASA or another space program and taking a role as an astronomer.