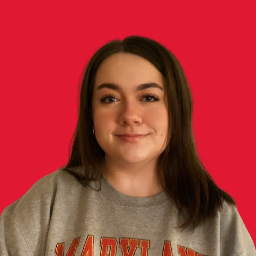 Caitlin Heiderman
Journalism / Bel Air, MD
About
What made you decide to attend the University of Maryland?
The University of Maryland is an incredible institution that offers world-class academics, faculty, and sports. I felt drawn to the University by its groundbreaking research, its diverse student body, and most of all, school culture. Being a native Marylander, I grew up within the culture of pure Maryland pride. This spirit was ingrained in my soul from a very young age–well before I started my college search. The University of Maryland eats, sleeps, and breathes Maryland. They promote our flag, our love of Old Bay, and most importantly, our state's beliefs in helping your fellow Marylanders out. UMD has several programs aimed at giving back to the state and its people, like the Maryland Promise Program. I knew that attending UMD meant that I would always have a strong community behind me, and that's the reason I decided to enroll.
---
What major/career path do you plan on pursuing and how did you select that path?
I plan to double major in investigative journalism and international relations. I am considering applying to the university's pre-law program. I am very interested in human rights law and want to work within that field someday. Whether it's through my writing or through law school, I know that I want to fight for the rights of women across the world. I find great passion in women's rights and the pursuit of ending human sex trafficking.
---
What clubs, community service, campus activities, or hobbies are you currently involved in or plan to take part in?
At Maryland, I want to join Amnesty International, Do Good, The Hare, Unicef at UMD, Beyond Shelter, and Dream of Coffee.
---
How has receiving this scholarship positively impacted your life?
This scholarship will help my family out more than you could ever know. This opportunity means my parents won't have to worry about not being able to afford the mortgage or electric payments. My parents have always been my biggest supporters through life and my education and they are so proud that I will be attending UMD. The worry of finances always made college seem unattainable for myself and my siblings. This scholarship will not only put me through college, but it will allow my parents to afford college for my younger sister too.
---
What are your future goals after graduation?
I hope to pursue a career within the human rights law fields. I am considering becoming an investigative reporter that focuses on international politics and human rights issues. I am also considering pursuing higher education through law school, where I would practice human rights law.