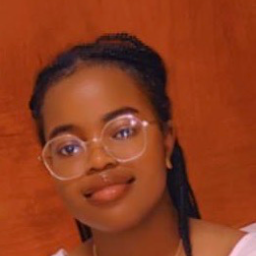 Dieynaba Talla
History and Public Health Science / Baltimore, MD
About
What made you decide to attend the University of Maryland?
The University of Maryland, College Park was my first choice out of the five other Maryland institutions I applied to. I chose to enroll at the University of Maryland for a multitude of compelling reasons. Both of my sisters attend UMD, and their presence ensures that I'll have a built-in network of support and familiar faces to assist me as I navigate the transition into college life. Sharing experiences and creating lasting memories together amplifies my anticipation for the college journey. Through their experiences of being a part of the UMD community, I've heard of the diverse campus and all of its opportunities. The university's stellar reputation in academics, lively school spirit, and diverse student community played a significant role in shaping my decision. The strong emphasis on providing high-quality education and the numerous opportunities available for personal and intellectual growth align seamlessly with my educational aspirations of pursuing medicine and history. With the vast array of courses catering to various interests, I'm particularly enthusiastic about the extensive options that will allow me to customize my education to match my passions and future career goals. The presence of dedicated and experienced faculty members further elevates the academic experience, providing invaluable mentorship and guidance that I believe will significantly contribute to my overall personal and intellectual development.
---
What major/career path do you plan on pursuing and how did you select that path?
Deciding a career path was a challenging process for me as I have many interests in liberal arts, stem, psychology and criminology. Since the study of humans has a wide variety of subjects, whether mental or physical, it was difficult to choose which path to focus on. My passions rely heavily on the study of the past and human behavior which is why I wanted to pursue an education path in history or anthropology; to gain a sense of understanding of other cultures and how individuals lived in the past and its impact today. I have also been committed to the health, healing, and illness of people. Learning about the structure of human anatomy in biology class and outside of school piqued my interest in the well-being of people and how physicality is a factor determined by the strengths or weaknesses of the human body. This raised many questions on how medicine was practiced throughout time in different methods; from the healing procedures of the bloodletting in Ancient Egypt to the herbal healing processes of the Hmong in Laos. Ethical guidelines and methods vary by culture, region, and time in history and this is why I wanted to study medicine. By majoring in public health science and minoring in history, I can ensure to continually gain knowledge on the practices of health, healing, and illness to help prevent deaths by injuries and diseases.
---
What clubs, community service, campus activities, or hobbies are you currently involved in or plan to take part in?
I'm excited to immerse myself in a range of clubs and campus activities. Currently, I have plans to join several clubs, two of which are the Muslim Student Association (MSA) and the Senegalese Gambian Association (SGA). Being a Muslim, I am eager to continue nurturing and deepening my faith while being away from my home environment. MSA offers an ideal platform for me to strike a balance between my religious commitments and academic pursuits. Through their educational, cultural, and social programs, I'm confident that I'll not only find a community of like-minded individuals but also be equipped with resources that will support my growth in various aspects of life. Another club that I'm enthusiastic about is SGA. As a Senegalese, this club will provide me with an invaluable opportunity to connect with individuals who share my cultural background. By participating in SGA, I hope to contribute to its mission of promoting cultural awareness and building a sense of belonging among its members. My involvement in these clubs reflects my commitment to personal growth, cultural enrichment, and fostering meaningful connections during my time at UMD. During high school, I was immersed in Astronomy & Astrophysics Club and Art Assistance. In Astronomy & Astrophysics Club, students were given the opportunity to learn about space dynamics. In Art Assistance, we had creative projects to support Baltimore City College and partner with other members in finishing murals and stage props. These school clubs allowed me to participate and engage with other students who shared similar interests.
---
How has receiving this scholarship positively impacted your life?
It is an honor to have been selected for the Maryland Promise Scholarship. The financial assistance will help me focus on my future career without the distractions pertaining to my financial status. It will release some financial burdens for my parents. Without the funding, I would not be able to attend university stress-free from finances. This scholarship will keep me from having to work more hours to cover my educational opportunities.
---
What are your future goals after graduation?
There are many personal and professional goals I'd like to accomplish. My initial career path upon entering the University of Maryland College Park was to pursue a degree in history and embark on the pre-med track. After exploring the academic colleges and resources available at UMD, I've decided to pursue a major in public health science and a minor in history followed by medical school post-graduation. From my experience at UMD, I hope to apply my knowledge toward my future goals of furthering my education as a thoracic surgeon. From internships and newly developed skills, I want to increase my understanding of the world around me to formulate my own opinions.