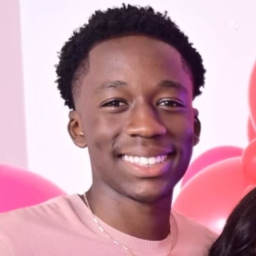 Emmanuel Adedeji
Computer Science / Laurel, MD
About
What made you decide to attend the University of Maryland?
My commitment to the University of Maryland was based on a number of reasons. My first reason was due to the institution's national ranking in computer science. Another reason is its close proximity to home, so I'm very familiar with the area. Thirdly, and if not the most major reason, I enrolled due to the university's investment in me, as shown with this scholarship.
---
What major/career path do you plan on pursuing and how did you select that path?
Currently, I am pursuing a degree in computer science in hopes of becoming a software developer. I chose this path due to the strong interest I developed for coding during my sophomore year of high school. In the midst of the pandemic and in being limited in what activities I could do, I opted to put all my time and effort into my soccer and my AP Computer Science Principles class. In a course where we were tasked with creating various types of apps, I learned how versatile, limitless, and rewarding coding can be. I was able to gain a valuable skill and experience which has now propelled me into my current major and career path.
---
What clubs, community service, campus activities, or hobbies are you currently involved in or plan to take part in?
As a part of the UMD community and student body, I look forward to participating in many different types of clubs and campus activities. I'm looking to join the UMD Club Soccer team, Bethel Christian Fellowship Group, the National Society of Black Engineers, and another STEM related club. As a Maryland Promise and Incentive Awards Program scholar, I'm also looking forward to the many different community service activities planned such as assisting in soup kitchens. Furthermore, I can't wait to take advantage of the different amenities the campus has to offer with my friends such as the gym, La Plata beach, and much more.
---
How has receiving this scholarship positively impacted your life?
Being a recipient of this scholarship has greatly impacted my life in ways that I'll forever be grateful for. Looking back at the hardships that me and my family faced and even our current circumstances, I understand that this scholarship has allowed me to pursue an education that I otherwise may not have gotten. I realized that a burden has been lifted off of my mother, father, sisters, and myself. This burden is not only seen financially but also in the expectations placed upon me. Though I understand there is a standard for me to uphold as a student, I now feel as if I can truly enjoy the next four years at this institution without any barriers.
---
What are your future goals after graduation?
I have a number of goals I'd like to achieve after my four years at the University of Maryland. Firstly, I aspire to land a job as a software developer either at a top technology company or a government agency. Additionally, I hope to write a research paper concerning the software applications towards improving X-rays. Lastly, I would love to be a mentor and continue to work in the church to fulfill my duty as a Christian.