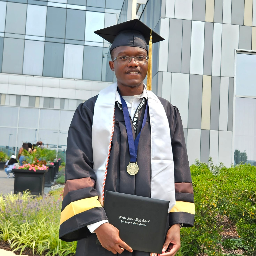 Georges Tsague Tadonki
Civil Engineering / Laurel, MD
About
What made you decide to attend the University of Maryland?
I chose the University of Maryland because it felt like the right fit for me. I had the privilege of knowing several mentors, teachers, family friends, and acquaintances who had attended UMD and spoke highly of their experiences. The atmosphere and environment around the campus were incredibly inviting and appealing. Whenever I visited this part of Maryland, I felt a strong sense of belonging and a welcoming spirit from the campus community and the surrounding area. This welcoming atmosphere was something I wanted to be a part of during my college years. Additionally, financial considerations factored into my choice. UMD offered a cost-effective option for my education, which was important to me and my family. The affordability of attending UMD made it a better choice than other colleges. In summary, positive recommendations, the welcoming campus atmosphere, and financial considerations were key factors that influenced my decision to enroll at the University of Maryland, where I felt I could pursue my education and personal growth effectively.
---
What major/career path do you plan on pursuing and how did you select that path?
I plan to pursue a career in civil engineering. My passion for this field was sparked by a lifelong fascination with the built environment, including structures like bridges and buildings. As I grew older, I enjoyed constructing models and exploring how things work, which naturally led me to study civil engineering. This field's potential to make a positive impact on society, particularly in building sustainable and equitable communities in the face of climate change, resonated with my values and aspirations. Through my studies, I aim to gain the knowledge and skills necessary to contribute meaningfully to the world as a civil engineer.
---
What clubs, community service, campus activities, or hobbies are you currently involved in or plan to take part in?
At UMD, I intend to become involved in campus activities that align with my major and interests. I'm contemplating joining Engineers Without Borders, possibly during my sophomore or junior year, to gain practical skills in the field. Moreover, I'm eager to participate in clubs such as Terps Running and the Terp Trail Club to maintain an active lifestyle and connect with fellow students who share my passions. These activities will not only enhance my college experience but also allow me to contribute to both the engineering community and the broader campus life.
---
How has receiving this scholarship positively impacted your life?
Receiving this scholarship will have a significant positive impact on my life. It will provide much-needed relief to my parents and my family, alleviating the financial burden that has weighed on us since the end of the pandemic. This newfound financial stability will not only relieve this stress, but also allow my family the space to breathe and recover. It will also ease the financial constraints on my education and allow me to focus more fully on my studies and future goals, offering a brighter and more hopeful path forward for my family and me.
---
What are your future goals after graduation?
After graduation, my intention is to apply my acquired skills to initiate a career in civil engineering. My aspiration is to engage in projects that actively contribute to sustainable and resilient infrastructure, effectively addressing the challenges brought about by climate change. Moreover, I'm committed to ongoing learning in my field, aiming to become an engineer who can confidently contribute to and support my community's needs.