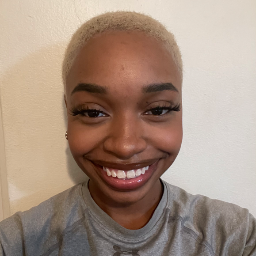 Joy Sharp
Undecided / Baltimore, MD
About
What made you decide to attend the University of Maryland?
What made me enroll at the University of Maryland initially was that it was close to home. My mom didn't want me too far, but I didn't want to be close either. When I went on a tour of the campus, I loved how big the campus was. UMD is basically a city of its own. Then, I was able to experience the campus on a deeper level through the New Student Orientation, and I loved the amount of diversity I saw around me. I realized how easy it is to find people of many different backgrounds at UMD, including our own. Therefore, you'd never feel like an outcast.
---
What major/career path do you plan on pursuing and how did you select that path?
I plan on pursuing a bachelor's in public health and then attending nursing school. I'm looking forward to working in the pediatric field, or probably in NICU. I love the idea of giving back to others and improving the health of others. Hopefully, I'm able to participate in philanthropy with the money I make in my career and give back to scholarships that support underfunded students.
---
What clubs, community service, campus activities, or hobbies are you currently involved in or plan to take part in?
I plan to join the Black Student Union (BSU) to support and participate in Black culture. I also want to join BSU so I can get closer to those I share a similar background. I also want to participate in dog walking community service because I love dogs and wouldn't mind giving back to the community by doing something I enjoy. I've been thinking of joining a dance team as well or even just taking a dance class. I hope to continue my training in dance at UMD but at my own pace.
---
How has receiving this scholarship positively impacted your life?
This scholarship has benefited me in so many ways. It has helped to give me the opportunity to go to college, free of financial stress. I feel more confident in getting a proper education in the field of my choice thanks to this scholarship. It has lifted a weight off of my shoulders, especially since I've grown up struggling financially. I'm more prompted to give back to others because of the way I've been blessed.
---
What are your future goals after graduation?
My future goals are to work in a hospital, supporting the health of youth or infants. I love working with and supporting children. I feel the urge to help and support them, and I try to incorporate my passion to support them through community service. I hope that I can be an inspiration to children, and diversify the medical field through my efforts. I want many under-supported students to find support through me and realize they're capable of pursuing their dreams.