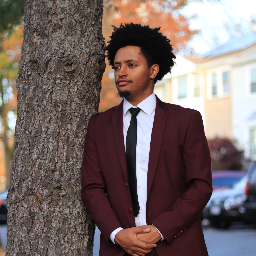 Kirubel Yadetie
Information Science / Rockville, MD
About
What made you decide to attend the University of Maryland?
I'm excited about attending UMD because of its outstanding reputation as one of the best in-state institutions offering programs closely aligned with my chosen career path. The comprehensive curriculum and cutting-edge resources they provide will undoubtedly equip me with the knowledge and skills necessary for success in my field. Additionally, the strong family legacy associated with this college greatly influences my decision. Hearing stories of relatives who have thrived here creates a profound sense of connection and belonging.
---
What major/career path do you plan on pursuing and how did you select that path?
I chose information science as my major and I plan to purse UI/UX design as my career path. The reason I chose this path is my innate curiosity about how technology can enhance human experience.
---
What clubs, community service, campus activities, or hobbies are you currently involved in or plan to take part in?
As it's my first semester on campus, I'm currently in the process of exploring various opportunities for involvement. While I haven't yet engaged in specific campus activities, I'm eager to immerse myself in multiple campus groups and secure internships that align with my interests.
---
How has receiving this scholarship positively impacted your life?
Receiving this scholarship has been a life-changing opportunity for me. It has alleviated the financial burden that was impeding my education, enabling me to fully concentrate on my academic pursuits without the necessity of working full-time to cover school expenses. This support not only helps me excel in my studies but also allows me to invest more time and energy into both my education and personal growth.
---
What are your future goals after graduation?
My future goals are on a wide spectrum. I plan to travel the world as much as possible. But most importantly, I plan to support my parents by leveraging my education to provide them with a comfortable life they rightfully deserve.