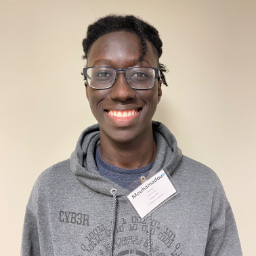 Mouhamadou Dieng
Computer Science / Lanham, MD
About
What made you decide to attend the University of Maryland?
Due to my strong passion for the information security sector, enrolling at the University of Maryland was a logical choice. The university's strategic location in close proximity to Washington, D.C. and Virginia holds immense potential for my career, given that major industry leaders such as MITRE, Lockheed Martin, Northrop Grumman, AWS, Leidos, and others, are situated in these areas. This environment greatly enhances my prospects for securing internships and having valuable experiences. Nevertheless, the paramount factor influencing my decision to enroll was the substantial financial relief it brought to my family. Scholarships and awards like the Maryland Promise Scholarship have significantly lightened the burden on my family, and I am profoundly grateful for this assistance. I eagerly look forward to continued support in the times ahead.
---
What major/career path do you plan on pursuing and how did you select that path?
I am determined to pursue a career as a security engineer, driven by a culmination of impactful experiences. My internship as a cybersecurity engineer at NGA exposed me to real-world challenges in safeguarding sensitive information, igniting my passion for the field. Engaging in Capture The Flag (CTF) competitions honed my problem-solving skills and showcased the dynamic nature of cybersecurity. Earning professional certifications, alongside dedicated coursework, solidified my technical expertise. These collective experiences highlighted the dynamic and critical nature of cybersecurity, propelling me towards my chosen path as a security engineer.
---
What clubs, community service, campus activities, or hobbies are you currently involved in or plan to take part in?
Currently, I am engaged in a range of activities that enrich my university experience. I actively participate in Capture The Flag (CTF) competitions, sharpening my problem-solving skills in the realm of cybersecurity. Additionally, I enjoy unwinding through soccer matches with friends. Looking ahead, I am enthusiastic about joining NSBE (National Society of Black Engineers) to contribute to its empowering community and initiatives. Moreover, my interest in technology and innovation draws me toward the Application Development Club, where I anticipate immersing myself in collaborative projects that enhance my skills and expand my horizons.
---
How has receiving this scholarship positively impacted your life?
Receiving this scholarship has brought a profound positive shift to my life by alleviating a significant burden off my father, who tirelessly provides for both my sibling and me. This financial support not only eases the strain on his responsibilities, but also grants me the opportunity to focus more intensely on my academic pursuits and personal growth, enabling me to explore and engage in experiences that contribute to my future aspirations without the weight of financial worries.
---
What are your future goals after graduation?
After graduation, my immediate goal is to transition directly into the security industry, leveraging the knowledge and skills I've gained throughout my academic journey. With a focused determination on honing my expertise in the field, I plan to gain substantial hands-on experience and contribute meaningfully to the cybersecurity landscape. Looking a few years down the road, I envision pursuing a master's degree with SANS Institute, an institution renowned for its advanced and specialized programs. This further education aligns with my ambition to deepen my understanding and stay at the forefront of security advancements, ultimately enabling me to make even more impactful contributions to the industry.