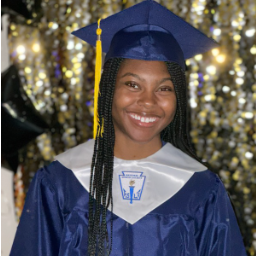 Mya Hinton
Communications / Catonsville, MD
About
What made you decide to attend the University of Maryland?
There are several factors that compelled me to enroll at UMD. Firstly, everything about the school is vast and the options seem endless. There's a plethora of clubs and organizations to join, programs to register for, activities to do, people to meet, and so on. It's impossible to run out of things to do in and around the campus. Secondly, not only is the University of Maryland diverse, but the institution also takes strides to acknowledge and educate different social groups within the community. Being a minority myself, this gives me a sense of security, belonging, and acceptance. It's evident that the school cares deeply for the safety, treatment, and comfort of each and every one of its students. Lastly, the people associated with UMD--students, faculty, athletes, etc.--always exude a distinct, undying pride regarding the school. The confidence and exuberance of those associated with the University of Maryland are absolutely unmatched, and it provides a great influence for high school students looking for colleges to attend. These components of UMD among numerous others are enough to make me beyond appreciative to call myself a Terp for the next chapter of my life.
---
What major/career path do you plan on pursuing and how did you select that path?
The major I am pursuing is communications (possibly with a minor in Spanish). Recently, I selected this path because it seemed like a cool major and anyone can fit into the field easily. One of my main goals in life is to live with as much balance as possible, specifically between work and fun. I feel like communications would be the program that would help me reach that point successfully. Also, communications has an endless array of job opportunities. Even though I'm not totally sure what I want to be in the future, I feel relieved to know that I'll have options to choose from when the time comes. Lastly, with communications comes articulation skills, whether it be through writing, speaking, or observing body language, and I'm personally good at and love writing. Therefore, having a major in communications will help me improve within that realm and develop skills in other realms I haven't yet flourished in.
---
What clubs, community service, campus activities, or hobbies are you currently involved in or plan to take part in?
I love to work out, make and try new foods, write, learn about fashion and experiment with different clothing items, take pictures of the world around me, dance, practice yoga, learn about different cultures and languages, and so many more activities. I hope to join a few clubs and organizations that align with my current hobbies. Additionally, just like my fellow incoming freshmen, I hope to make new friends. As a black student, I especially hope to develop more connections with people who share the same culture as me. Therefore, I'm considering joining clubs that integrate black students and emphasize our culture, voices, and ideas.
---
How has receiving this scholarship positively impacted your life?
Receiving this scholarship has positively impacted my life by making it easier to attend college. This scholarship made me take a step back and realize that it's opportunities and offers like this that should never be taken for granted. It made me recognize all the things around me that I should be grateful for, even the sheer opportunity to go to college. Even though life isn't always linear or convenient, there's still always a way out of adverse situations.
---
What are your future goals after graduation?
I have a few goals after graduation. The first goal I have is to travel and explore the world more. Life has so much to offer and there's still plenty of nature and places that I have yet to see. My second goal is to live my truth and embrace my authenticity. We're all individuals for a reason. We all bring something different, better yet, unique, to the table. Even though there isn't a single human on this Earth who is free of insecurities, I want to reach a point where I do what I want, live to my own standards, and be myself freely without the fear of displeasing others. My last goal is to develop a healthy balance in my life between work and fun. A common misconception, especially in the United States today, is that once a person reaches a certain age or phase of their life (usually adulthood), life can't be fun anymore. While life can get a little less fun, juggling all the grueling responsibilities of adulthood, ultimately, we have complete control over our own lives. Who says we have to work a 9-5 for years straight to make a sustainable living? Who says we can't have a life outside of work? Who says we can't heal our inner child every once in a while by engaging in hobbies we used to love? I don't want to live a mundane life after college. I will work, but my profession won't consume my whole life.