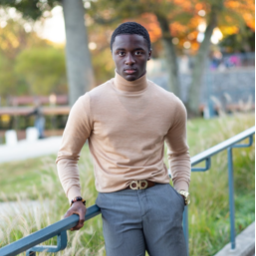 Nana Sarkodie
Biological Sciences / Germantown, MD
About
What made you decide to attend the University of Maryland?
First and foremost, I decided to enroll at the University of Maryland due to its proximity to my home. I enjoy the fact that I can attend school in a different area and experience something new, while also being close enough to home to help out my family. In addition to this, the University of Maryland is an excellent school, ranking high among the nation. Thus, I knew I would be receiving the highest level of education, which would be necessary for me to excel in my field. Furthermore, with the endless opportunities for extracurricular activities, I knew I could develop a network and create great friendships.
---
What major/career path do you plan on pursuing and how did you select that path?
I decided to become a physician assistant. More specifically, I hope to work in sports medicine. Throughout high school, I have always been involved in sports. From kickboxing to soccer, I enjoyed the competitive environment because it taught me that it is important to master your craft. To continue, I loved studying the biomechanics of exercises and athletes to see how I could maximize my athletic performance. With this passion, I desire to be a sports medicine physician assistant so that I can utilize science in order to enhance the performance of athletes.
---
What clubs, community service, campus activities, or hobbies are you currently involved in or plan to take part in?
Currently, I am participating in the Universities at Shady Grove (USG) Peer Mentorship Club, where I learn from seniors in the Biological Sciences Program the strategies they used to succeed. In terms of the future, I hope to participate in the USG Soccer Club, where I can get exercise while honing my ball handling technique. Also, I hope to participate in the Tau Sigma Honor Society, where I can volunteer with fellow students and help incoming students adjust to the rigor of a 4-year university.
---
How has receiving this scholarship positively impacted your life?
Receiving this scholarship has positively impacted my life in a variety of ways. I no longer stress about how to pay tuition after I graduate since I am planning to go into PA School. I appreciate the opportunity to be able to focus on studying and excelling in school. In addition to this, I enjoy the monthly community meetings that the Maryland Promise Program has. I have learned quite a lot about leadership and am hoping to translate those skills into work when I graduate.
---
What are your future goals after graduation?
After graduation I plan on attending physician assistant school. I have been looking at fulfilling requirements for the University of Maryland's and Towson's PA programs. I am planning on attending in 2026, after taking a year to fulfill patient care experience requirements.