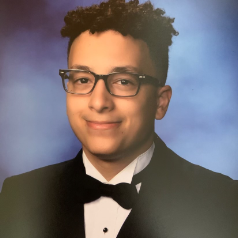 Adam Ben Youssef
Aerospace Engineering / Silver Spring, MD
About
What made you decide to enroll at the University of Maryland?
The main reason I decided to enroll at the University of Maryland was because of its proximity to my hometown. Being able to commute and return home was a large reason why I enrolled. Another reason is the aerospace engineering program offered at UMD, which is exceptional. Additionally, all of my dual enrollment credits from Montgomery College directly transferred to UMD.
---
What major/career path do you plan on pursuing and how did you select that path?
I am pursuing a bachelor's in aerospace engineering. I selected that path because of my passion for aerospace, astronomy, and mechanics that I developed from a young age. I was involved with model rocketry, and have always had a thing from math and science.
---
Activities I do outside of class or community service/volunteer activities I'm involved with:
I am currently involved in UMD's boxing club as well as their wrestling club, to eventually be able to compete. I am also active in UMD's Muslim Student Association, attending events and being generally involved in prayer and their community.
---
Aside from academics, what else do you hope to take away from your time at Maryland?
I hope to make a great deal of connections with new people that may be friendships, mentors, or networks for future opportunities. I also hope to become a better person overall, physically, mentally and spiritually.
---
What are your future goals after graduation?
My future goal after graduation is to become an aerospace engineer, working on a space track, as I am deeply interested in space-related ordeals. I also plan to start my own business, which doesn't necessarily have to be related to engineering.