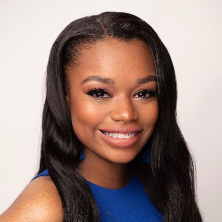 Aeirss Prince
Government & Politics / Baltimore, MD
About
What made you decide to enroll at the University of Maryland?
I chose to enroll at the University of Maryland over other universities I applied to because I knew it would provide me with the most opportunities to explore and develop as a student while pursuing my targeted career path. I am confident that the University of Maryland will enable me to achieve social and academic success.
---
What major/career path do you plan on pursuing and how did you select that path?
I plan to continue to pursue a government and politics major with a minor in business. Much of my volunteer work has always revolved around being an advocate for access to resources and opportunities for voter registration or access to proper technology. I want to continue using my voice and passion for political advocacy of young adults. I have an interest in business and entrepreneurship, which I will continue to explore and learn more about in college as well. I hope that by studying these fields, I can create an impactful change within the larger community. I want to learn business in order to create networks with like-minded people to assist the community. I would like to use what I know to teach them about capital accumulation to allow people to gain an understanding of how money moves and works. In addition, I want to educate the community that corporations are people, and why that concept significant. It is vital because businesses today wield more power than people in our society, and that needs to change.
---
Activities I do outside of class or community service/volunteer activities I'm involved with:
I started a non-partisan organization called the Baltimore City Youth Voter Registration Committee (BCYVRC) which focuses on assisting young adults with voter registration and resources on civics education. Founding this organization has been one of the most difficult and most rewarding projects I've ever worked on, and it has shown me how passionate I am about voting rights and creating resources specifically made for youth by youth here in Baltimore City. In the Winter of 2020, I served on Baltimore City Mayor-Elect Brandon Scott's Governance Structure Transition Team. Having the opportunity to be on Mayor Scott's transition team as the youth representative for our committee gave me the chance to understand a few new implementations for the government structure under Mayor Scott and has been one of the best opportunities. From middle school to my junior year, I served as a Baltimore City Youth Commissioner for the Mayor's Office for 4 years. I represented the 10th District, and one of my main jobs was to assist in advising and giving recommendations to the Mayor and City Council on policies and programs to help benefit youth opportunities and development around the city. Last year, in the spring of 2021, I participated in a donation fundraising campaign for the Leukemia & Lymphoma Societies Students of the Year Campaign with a student-led team in the South Florida area to raise money for blood cancer research and to assist patients in need. This was an incredible experience that taught me a lot about teamwork and the need for thinking outside the box.
---
Aside from academics, what else do you hope to take away from your time at Maryland?
From my 4 years at Maryland, I hope to have created lifelong connections with other like-minded individuals. Most importantly, I hope to have grown as a person and feel fully prepared to pursue a career in government. Also, I hope my time at Maryland continues to inspire me to be an active participant in my larger community.
---
What are your future goals after graduation?
After graduation, I want to seek a career that is related to my major. I hope that after participating in the University of Maryland's study abroad program, I will continue to travel after graduation in order to have a better understanding of the different cultures that exist around the world. Most importantly, after graduation, I want to continue to learn and develop new skills. Because I feel that learning does not end in college or high school and because of my interest in business, I aspire to one day start my own business.