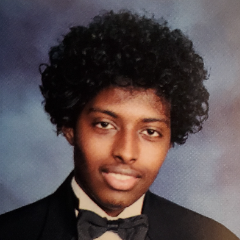 Amisiyas Seyoum
Computer Engineering / Silver Spring, MD
About
What made you decide to enroll at the University of Maryland?
I decided to enroll at the University of Maryland because it offers a wide arrange of very advanced classes at a reasonable cost.
---
What major/career path do you plan on pursuing and how did you select that path?
I chose to pursue a major in computer engineering. Ever since I was a child, I was always interested in technology so I wanted to take that to the next level and I believe UMD will allow me to pursue those dreams.
---
Activities I do outside of class or community service/volunteer activities I'm involved with:
I volunteer at a nonprofit organization called A Wider Circle.
---
Aside from academics, what else do you hope to take away from your time at Maryland?
I want to make new friends and make lasting memories.
---
What are your future goals after graduation?
I plan on getting a job right after I graduate and perhaps pursue a master's degree.