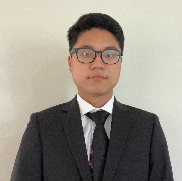 Andrew Min
Mechanical Engineering / Columbia, MD
About
What made you decide to enroll at the University of Maryland?
The first time I toured the University of Maryland, I was shocked at all the buildings and the support the university had for its students. I heard so many stories from my sister talking about how good the campus and people of the University of Maryland had and it made my decision to enroll any easy one.
---
What major/career path do you plan on pursuing and how did you select that path?
I chose to study engineering because ever since I was young, I have liked to use my hands to do anything like fix a broken door, make a mouse trap using cardboard, and more. I have always liked the feeling of connecting parts together to accomplish a specific task. I thought that with engineering, I would be able to continue that joy into the future.
---
Activities I do outside of class or community service/volunteer activities I'm involved with:
I am a part of a local basketball team which helps me stay active and healthy. I love anything that is outdoors like hiking which allows me to appreciate the environment. I also actively participate in my church, which includes helping out preschoolers, leading small groups, and making sure everyone is safe.
---
Aside from academics, what else do you hope to take away from your time at Maryland?
I hope to experience the college life everyone talks about. There are so many people participating in many different clubs and the campus is always active. I also hope to create long-lasting relationships with many diverse people.
---
What are your future goals after graduation?
I plan on getting an entry-level engineering position at a company that would help increase my skill set to further my career goals. I may want to further my education by pursuing a master's or Ph.D. to increase my chances of getting a higher-level position in an engineering company.