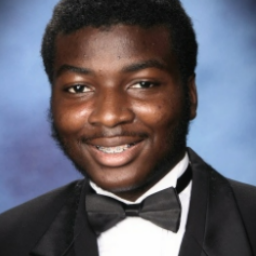 Baqee Sanni
Biological Sciences / Upper Marlboro, MD
About
What made you decide to enroll at the University of Maryland?
The University of Maryland is a flagship school with a lot of prestige. It has amazing professors who I believe will help guide me in pursuing my future goal of becoming a licensed physician.
---
What major/career path do you plan on pursuing and how did you select that path?
I am currently in letters and sciences as an undecided major, but I plan to switch my major to biological sciences for the cell biology and genetics premed program in order to gain the knowledge required for the University of Maryland School of Medicine and eventually become a licensed physician.
---
Activities I do outside of class or community service/volunteer activities I'm involved with:
In my previous year of schooling, I was involved in a student created organization called Lift Club. The main point of the group me and my friends created was to help lift those up in times of need. We ran multiple food and clothing drives as well as a women necessity drive.
---
Aside from academics, what else do you hope to take away from your time at Maryland?
I hope to become part of multiple groups that align with my identities, for example the Muslim Student Association, Black Student Union, and African Student Association. I also hope to continue my volunteer work that I did in high school as I believe that it is important to give back to the community that raised you.
---
What are your future goals after graduation?
I plan to take the MCAT and pass. This will lead to me applying to the University of Maryland School of Medicine and getting accepted. I plan to study in a highly equipped laboratory where I can perform hands-on research that supports my knowledge and allows me to gain experience in real world applications. With this newfound knowledge and having graduated from medical school, I plan to become a physician.