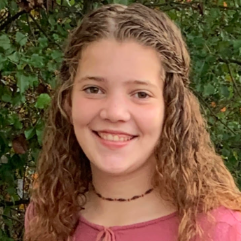 Beatrice Orsini
Civil Engineering / Bel Air, MD
About
What made you decide to enroll at the University of Maryland?
I decided to enroll at the University of Maryland because of the robust and strong engineering program. Since the engineering program is so expansive, I will be able to explore all of my interests and research a variety of topics. Alongside the outstanding academics, the UMD campus life is unmatched with the duality of on-campus events and being a short distance from D.C. Most importantly, UMD will give me the opportunity to work with like-minded students and build a strong base for my future career.
---
What major/career path do you plan on pursuing and how did you select that path?
I plan to pursue a career in environmental engineering. My interest in environmental engineering began when I learned of the global water crisis. I am inspired to help design and build wells in communities that suffer from water scarcity. I believe access to potable water is a basic human right and the resources and technology available in today's world should be used to create a more equitable world.
---
Activities I do outside of class or community service/volunteer activities I'm involved with:
Throughout high school I was heavily involved in Students for Equality, National Honor Society, Spanish National Honor Society, and Habitat for Humanity. All of these clubs taught me the importance of giving back to others and using your resources for good. My experiences in these clubs have shaped what I want to do in my career because I realized that helping others is extremely rewarding and gives me a strong purpose.
---
Aside from academics, what else do you hope to take away from your time at Maryland?
During my time at Maryland, I hope to step out of my comfort zone and have many new experiences. Through this I hope to discover new passions and meet new, long-lasting friends. I see college as an opportunity to discover the best version of myself and find activities and people that make me joyful. Finding my own voice and learning to think for myself is of paramount importance during my time at Maryland.
---
What are your future goals after graduation?
After graduation I plan to design and build water wells in areas of the world that suffer from water scarcity. I want to create a more equitable world in which everyone has access to basic human needs. I hope to use my education and opportunities to help others who are not as fortunate. My goal is to use modern technology to help solve the water scarcity and bring potable water to communities around the world.