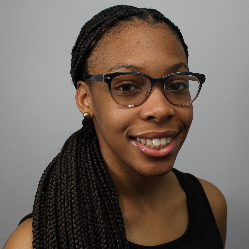 Britney Hansford
Music Education / Capitol Heights, MD
About
What made you decide to enroll at the University of Maryland?
What made me decide to enroll at the University of Maryland was the School of Music, more specifically the music education program. What drew me to the music education program was the fact that it is a rigorous and hands-on program that prepares you for the teaching profession. They also have a 100 percent placement rate after graduation which was really important to me. The faculty of the School of Music, specifically the bass faculty, was also really important to me. Lastly, the location drew me to University of Maryland. Its proximity to D.C. and unlimited opportunities stood out to me. It's also a beautiful campus!
---
What major/career path do you plan on pursuing and how did you select that path?
My career path is music education. I chose this career path because I have always been exposed to instruments and music. I have been able to experience the joys of the performing arts and having a creative outlet. My music teachers have also played a vital role in my decision of music education. They have always made sure that they put love and joy into making sure their students have a positive experience when it came to music and playing our instruments. They truly had an amazing impact on me. I want to be able to do the same for students in the future.
---
Activities I do outside of class or community service/volunteer activities I'm involved with:
Activities that I participate in include a non-profit mentor group called Girls Like Us Evolving. G.L.U.E is located in Prince George's County and focuses on helping young women overcome and thrive through the challenges of life. I am a mentee who is striving to be a mentor for that group. Lastly, I run my own small business called Pieces Of Me by Brit. I make and sell a wide style variety of beaded bracelets for men, women, and kids. I also like to play softball for fun.
---
Aside from academics, what else do you hope to take away from your time at Maryland?
What I hope to take away from my time at Maryland is developing a growth mindset and embracing change. I say this because life is always throwing curve balls at you and you have to be able to get over them no matter what. I also say this because I want to be able to evolve day by day and become a better version of myself so I can constantly be proud of who I am.
---
What are your future goals after graduation?
My future goals for graduation are to get higher education, get a job teaching in a school as an orchestra director, and start a non profit to help spread the joys of music to kids and adults for little to no charge.