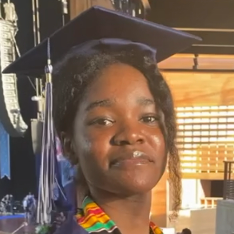 Clare Ijoma
Public Health Science / Columbia, MD
About
What made you decide to enroll at the University of Maryland?
At first, applying to UMD meant comfort. One of my brothers currently attends, all of my siblings have applied here, and most of my peers were applying as well. It was the general familiarity of the school that first drew me in, but soon it became so much more than that. As I immersed myself in the application process, it became more and more clear which school I was subconsciously crossing my fingers to be accepted into. It was the large college feel, the diverse community, the plethora of majors, the beautifully constructed campus, and, most importantly, the people. Nothing makes a place more than the people who occupy it and UMD is a stellar example of this. This university is socially aware and active in its pursuit of justice and inclusivity. I knew that I would not feel alone at this school - there are people from all walks of life that I can laugh, relate, and connect with. Additionally, being accepted into the College Park Scholars Program means I have a way to make a big school feel small at times.
---
What major/career path do you plan on pursuing and how did you select that path?
Selecting my major and potential career path was important for me as someone who thrives with structure and a goal in front of me. To come to my decision, I had prolonged conversations with my friends, family, and teachers about why they chose the paths they did. I applied their responses and reasonings to my own life and I researched. At any given moment, if you opened my laptop you would see twenty tabs open - all on different sites asking questions and analyzing different careers. Finally, I came to my decision: public health science major on a pre-physician assistant track. I felt that the work-life balance was something I would enjoy and it would allow me to start working relatively early with an accelerated master's program. I welcome both what this university has to offer me and any changes that might lead to a re-evaluation of my major/track.
---
Activities I do outside of class or community service/volunteer activities I'm involved with:
Seeing as this is my first year attending the university, I'm not currently a part of any school organizations. In high school, I was involved in my school's SGA and an organization that worked to destigmatize mental health. I plan to join similar clubs/organizations and seek leadership positions. Outside of academics, I enjoy reading, art, and trying new things.
---
Aside from academics, what else do you hope to take away from your time at Maryland?
The community at UMD is large and great. I hope to carry the pride of being a Terp with me long after I graduate. I hope to make long-lasting memories in the organizations and clubs that I join. There is so much to learn about life from the people here, and I hope to come away a brighter and more motivated individual.
---
What are your future goals after graduation?
After graduation, I plan to apply to a PA school to continue my education. I hope to travel the world and keep experiencing new things, learning with every step I take. I want to give back to my community in the future. I won't forget the generosity that aided and motivated me, and I want to pay that forward. Most of all, I want to be able to look back and say "I made the right choice and I worked hard."