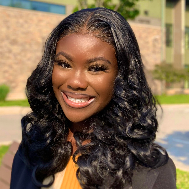 Doris Levry
Mechanical Engineering / Silver Spring, MD
About
What made you decide to enroll at the University of Maryland?
I decided to enroll at the University of Maryland because it was the best financial decision for me and my family, and it has a strong school of engineering.
---
What major/career path do you plan on pursuing and how did you select that path?
I plan to pursue a degree in mechanical engineering. I want to diversify this field and increase the representation of black women in mechanical engineering. I selected this path because I am an extremely imaginative person, and engineering will allow me to be innovative while solving global problems. My favorite subject in school has always been math and design applications. I enjoy communicating and collaborating with others on difficult but interesting projects, and I know I will get the chance to do so in this field.
---
Activities I do outside of class or community service/volunteer activities I'm involved with:
Outside of the classroom, I love to spend my time dancing and playing the piano. I am also active in my church, and we volunteer at non-profit organizations such as A Wider Circle.
---
Aside from academics, what else do you hope to take away from your time at Maryland?
I hope to take away new connections and develop relationships with other individuals with different backgrounds than mine. I also want to discover more about my identity and other areas of interest.
---
What are your future goals after graduation?
My professional ambition is to work for one of the FAANG companies, NASA, or Lockheed Martin.