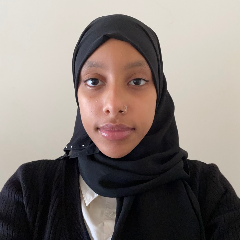 Ehesane Nida
Business / Rockville, MD
About
What made you decide to enroll at the University of Maryland?
I decided to enroll at the University of Maryland because UMD presented both career and academic opportunities that I am interested in. I also envisioned myself at this institution mainly because of the offered financial aid opportunities which I value among other factors when choosing the right college for me.
---
What major/career path do you plan on pursuing and how did you select that path?
I will pursue business and computer science. I plan to utilize a business and technology academic background to pursue a career in marketing or as a financial advisor at a technological organization. I selected this path by combining my interests over the years from my high school experiences. As a part of the engineering academy at my school, I joined many projects that developed my interest in computer engineering. As for business, I have always been interested in the topic, but through my dual enrollment course I was able to learn more in-depth and develop more of my interest.
---
Activities I do outside of class or community service/volunteer activities I'm involved with:
Throughout my high school career, in addition to my academics, I was very involved in extracurriculars. I led the Muslim Student Association at my high school. Amongst other experiences, I was also involved in 4 years of cross country which I am passionate about. I have also interned as a Youth Safety Ambassador at a non-profit organization to help my community by relaying health information and resources throughout the COVID-19 pandemic.
---
Aside from academics, what else do you hope to take away from your time at Maryland?
From my time at Maryland, I hope to develop a growth mindset, gain basic life skills, and apply myself towards a career. At Maryland, I also hope to gain experiences through being involved in clubs and outside organizations such as the Running Club, Survivor Maryland, and the National Society of Black Engineers.
---
What are your future goals after graduation?
After graduation, I intend to pursue higher education in computer science and pursue a career in business advising for a technological organization.