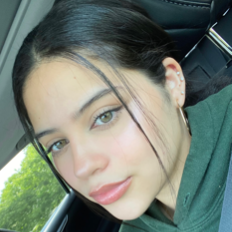 Estrella Jimenez Martinez
Undecided / Riverdale, MD
About
What made you decide to enroll at the University of Maryland?
Ever since I was a little girl I would see the University of Maryland (UMD) and point to it, telling my parents that I was going to go there some day. I've always wanted to go to college close to my parents, and UMD felt like home ever since I was a child.
---
What major/career path do you plan on pursuing and how did you select that path?
Currently my major is undecided, but I have been leaning toward majoring in business.
---
Activities I do outside of class or community service/volunteer activities I'm involved with:
In high school, I was involved in a program where we would volunteer our time cleaning up gardens, and planting.
---
Aside from academics, what else do you hope to take away from your time at Maryland?
I hope to make new memories and make life long friends.
---
What are your future goals after graduation?
My future goal after graduation is to be happy with whatever career I pursue.