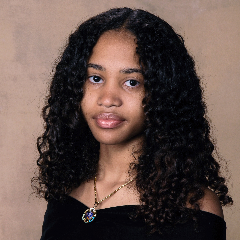 Gabriella Anthony
Mechanical Engineering / Baltimore, MD
About
What made you decide to enroll at the University of Maryland?
I decided to enroll at the University of Maryland because of their commitment to diversity and inclusion and the friendliness of the faculty and staff during my self-guided tour of the College Park campus. I also felt I would be truly supported in my higher education journey with the help of numerous academic success programs such as the Center for Minorities in Science and Engineering and others.
---
What major/career path do you plan on pursuing and how did you select that path?
I plan to pursue a degree in mechanical engineering and am interested in a career in the field of aviation. Throughout my past four years at the Baltimore Polytechnic Institute, my experience in the PLTW engineering program was my inspiration to pursue a career in engineering. I gained hands-on experience and the opportunity to network with STEM professionals who provided me with valuable insight into the kind of work
that engineers do.
---
Activities I do outside of class or community service/volunteer activities I'm involved with:
Outside of the classroom, I have a passion for hip-hop dance. I have been dancing for close to seven years and, as an immigrant, I have continued to find community through movement and musicality.
---
Aside from academics, what else do you hope to take away from your time at Maryland?
I hope to have the opportunity to study abroad, enjoy being a part of a different culture, and meet people from all walks of life. I also hope to leave Maryland having made meaningful friendships at home and memories to last a lifetime.
---
What are your future goals after graduation?
After graduation, I hope to start my career in the aviation industry. I am particularly interested in researching and incorporating more clean energy into air travel. I hope to inspire more people who look like me and with similar backgrounds to pursue STEM careers.