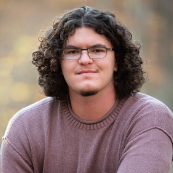 Grant Heinicke
Studio Art and Graphic Design / Bowie, MD
About
What made you decide to enroll at the University of Maryland?
Being a Terp and a student at the University of Maryland has been a dream of mine since starting high school. My family has always expressed great respect for the university.
---
What major/career path do you plan on pursuing and how did you select that path?
I chose to pursue a double major in studio art and graphic design. I have always enjoyed creating and communicating with my art. I also enjoy working with computers.
---
Activities I do outside of class or community service/volunteer activities I'm involved with:
I look forward to being involved with the the University of Maryland's Mighty Sound of Maryland marching band.
---
Aside from academics, what else do you hope to take away from your time at Maryland?
I hope to grow as a person socially and creatively and as a person who is an integral member of society.
---
What are your future goals after graduation?
I want to have a successful career in my chosen field using my creativity and artistic skills to help others communicate.