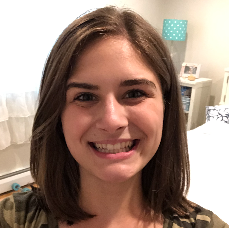 Isabella Maheu
English and Secondary English Education / Ellicott City, MD
About
What made you decide to enroll at the University of Maryland?
I enrolled at UMD because of the quality of education they offer so close to my home. I've heard great things about this school from alumni who have shared their experiences with me throughout my high school years. I had been told of the opportunities that the school offers, as well as their diversity in activities and experiences for students. As I got older I knew that this is where I wanted to continue my higher education. When I got accepted into UMD I was ecstatic and could not wait to attend.
---
What major/career path do you plan on pursuing and how did you select that path?
I plan on pursuing a career in education, specifically in high school English education. Throughout high school, I was involved in many activities that allowed me to develop a love of teaching. I was a teen mentor for a group affiliated with my church called Special Needs Faith Formation. In this organization, I taught religious education lessons to special needs students every week. In school I taught improv as the team's co-leader and was a theatre teen mentor in my senior year. Through these experiences, I learned that I love interacting with students and helping them to learn new things. My mother is a para-educator at an elementary school nearby. She has always come home with stories of the students she's helped and discussed with me how she was so happy that she had pursued this career. Many teachers I've had have greatly impacted my life and shaped me into the person I am today. I want to be the kind of teacher that they are. These experiences and people have helped me realize this is what I want to do.
---
Activities I do outside of class or community service/volunteer activities I'm involved with:
Outside of class, I have been a volunteer teen mentor at Special Needs Faith Formation, an organization that teaches special needs students religious education lessons. I have participated in this group since I was a freshman in high school and loved making lesson plans and finding new ways to teach a subject. The work put into this group was incredibly rewarding and helped me discover my passion for teaching. I am currently working as a food prep at Merriweather, helping to make and serve the food at the concert venue. Through this work experience, I have developed leadership and communication skills. I also enjoy writing and reading in my spare time.
---
Aside from academics, what else do you hope to take away from your time at Maryland?
I hope that during my time at UMD I grow into myself and make a lot of close friends. This is the first time I will be living by myself, and I look forward to seeing how I change in response to that. I look forward to that independence and the opportunity to learn from my experiences while on campus. I want to create strong relationships while on campus and graduate knowing that I came out of school better than when I entered.
---
What are your future goals after graduation?
My goals after graduation are currently very career driven. I would love to start teaching as soon as I finish school as I will have completed my teacher certification. I also plan on pursuing creative writing as a passion project with the hopes of writing a novel while I'm teaching. I've always loved fantasy and would probably write something within that genre. Starting a family has always been very important to me, and I would love to begin that journey as well when I am out of school.