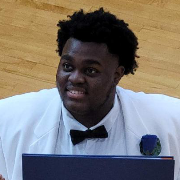 Jabarre' Jackson
Business Management / Baltimore City, MD
About
What made you decide to enroll at the University of Maryland?
From the diverse community to the plethora of rigorous and prestigious courses and program offerings, UMD was my top option of colleges that I was considering attending. UMD is the type of college that you see in your dreams or on TV with its popular notoriety and huge fan base in the college sports world. A large school with multiple campuses and major options, UMD had an endless amount of opportunities and offered an experience that I wouldn't be willing to pass on. Being a top university in my field of study and close to my home made UMD one of my best options. Financially, the scholarships offered to me by the University of Maryland covered most, if not all, of my expenses allowing me to go without having to use student loans or pay out of pocket. That opportunity provided to me hooked me in and made UMD the perfect university for me to attend.
---
What major/career path do you plan on pursuing and how did you select that path?
Studying business management at UMD allows me to broaden my understanding of how I perceive businesses to be run and orchestrated. With the superfluity of business and academic programs, I feel that UMD provides me with what I need in order to turn my dreams into a reality. At UMD, I can obtain a surplus of information, enough in order for me to be able to obtain and implement my plans to start my own business with the experience of having highly regarded partnerships and internships. My plan has always been to learn how to build on my own so I won't have to rely on anybody for anything. If I learn how to operate a business then I can work for myself and build generational wealth.
---
Activities I do outside of class or community service/volunteer activities I'm involved with:
The main activities I do outside of class are spend time with my family, hang out with friends, or work at my job. Working at my job, Chick-fil-A, as a mentor in the kitchen gives me a lot of responsibilities and puts a lot of weight on my shoulders. With my job being to train others on how to understand the workings of different stations, I have a big role because the newcomers look up to me. I dedicate myself to training others in the best way possible so eventually they will be able to teach others and prepare for inspections and upcoming evaluations. Being a mentor allows me to attend meetings and communicate with leaders for improvement on how to be better at our jobs. Watching newcomers come into the job and struggle on stations that are unfamiliar makes it challenging and fun to watch them transcend into different stages where they begin to become experts. I've been in a situation at work that caused confusion with me and a trainee because of a fellow mentor that had a different opinion than me. When we went to ask a leader they told us we were both right. I was able to learn that just because people have different methods and perspectives than you doesn't mean that they are wrong. This allowed me to open up my mindset and have a variety ways of teaching depending on the trainee's capabilities.
---
Aside from academics, what else do you hope to take away from your time at Maryland?
Aside from the academic opportunities, the offerings of a plethora of student based organizations that challenge, enhance, and stimulates the student body on a physical, social, and intellectual level peaked my interest as well. I would explore the performing arts programs and groups because of my history with performing and being in a TWIGS performing arts programs for acting and singing at local art schools in years prior. I love debating and arguing a point because it helps people understand perspectives through representation, so I would definitely consider joining the Student Government Association. I want to start protesting because I am Pro-Black and I strongly stand for equity and UMD's cultural identity seems that it could provide me with the support that I need to get active. I definitely want to join a sports team as well. Going through the list of opportunities that the College Park community seems to provide for it students, I believe that the opportunities provide me with what I need to be an effective member of society and I think my talents will be a contributing factor to advancing my fellow peers and leaders of the community.
---
What are your future goals after graduation?
The rigorous curriculum UMD offers gives me the opportunities that put me in real-life scenarios with a flexible and accessible network. This will allow me to be prepared for challenges and adjustments when I am ready to join a business firm and start a career. It has always been a dream of mine to be the head of a powerhouse empire large enough to supply consumers beyond my target market and set location. I want to have a business large enough to branch off into different cities and countries across the world and I feel that UMD would provide me with the best chance to implement my plans. After I graduate, I want to join a company to build experience as a manager and learn marketing, advertising, networking, and entrepreneurship to be able to eventually start my own business with peers.