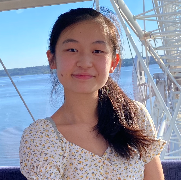 Jefferny Lin
Biology / Takoma Park, MD
About
What made you decide to enroll at the University of Maryland?
I liked UMD for the comfort of home as well as the abundance of opportunities given by a large state school that is close to many internship/job opportunities. During my college decision process, I was comparing UMD with a much smaller, private, elite school and realized that I enjoyed the crowded fervor of a large campus. There were so many people to meet at this school, friends to make, and clubs to join. UMD was also closer to home, so I could come back and take care of my family if they needed me, and vice versa.
---
What major/career path do you plan on pursuing and how did you select that path?
I enjoyed science from a young age, but this passion only developed in high school, where I began to take invigorating classes such as genetics, immunology, and biochem. I enjoy interacting with and helping people in life, which makes me lean toward an industry that cares for people's health, thus I chose a major in biology - concentrated in cell biology and genetics. This summer, I interned at an organization focusing on the chemistry of microbiology and it is the first time that I will be stepping into a laboratory to perform research. I hope that as my experience widens, I can get a feel for what I want to do in the future. All I know for certain is that science will definitely be a part of it.
---
Activities I do outside of class or community service/volunteer activities I'm involved with:
In high school, my main extracurricular was Stage Crew. I was head of the Sound Department my senior year, in which I handled the sound board, mics, audio effects, and music in school plays and musicals. I learned the importance of teamwork in making a show successful, and most of all, perseverance. Being part of the production team meant staying after school, and coming in on the weekends to get the set done. I was also a co-president of the Artful Club at my school and helped as a teacher's assistant in my senior year. In Artful, we allowed students to express their emotions through various mediums of art, giving them a safe space to create. As a class tutor for ESOL geometry, I guided students through class activities and lectures, making sure that the teacher slowed down when needed and repeating any information that students may have missed.
---
Aside from academics, what else do you hope to take away from your time at Maryland?
I would like to join some clubs and/or volunteer, specifically focusing on athletics, art, or education. I enjoy running, and would've joined the track team in high school, however my times in Stage Crew largely conflicted with the athletic clubs. At UMD, I'd like to join an intramural sports team in track or badminton. I'm also interested in giving back to the community! I want to continue what I've done in my Artful Club, by leading others to share their perspective of the world and allow a safe space to share their minds. I enjoy teaching others and watching something spark when they understand. I hope to continue helping others in my community with my knowledge in STEM or the fine arts.
---
What are your future goals after graduation?
Currently, I want to pursue more than just a 4-year degree, so I hope to continue my educational experience in biological sciences, earning a master's or Ph.D. I'd also like to get a job in this field in order to build my experience and support myself financially through college. I'd also like to study abroad, perhaps working in a hospital so I can understand the plights that other nations face against medicinal poverty and disease.