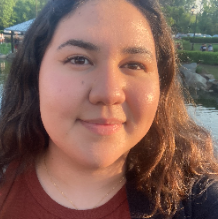 Juliana Portillo
Elementary Education / Kensington, MD
About
What made you decide to enroll at the University of Maryland?
I decided to enroll at the University of Maryland, not just because it was 20 minutes from my house, but because of the opportunities it offered. It is such a big campus with just about every resource imaginable available to the students such as the Writing Center which could be a life saver for a freshman like me. The staff and professors are also excited to help students get a head start, whether it be with internships or mentoring. It's overall a great school that made me feel like I was welcome and ready to move forward.
---
What major/career path do you plan on pursuing and how did you select that path?
I am an elementary education major and I plan on being an elementary school teacher, preferably 3rd grade. I decided that I wanted to become a teacher during elementary school. My 3rd grade teacher was the sweetest teacher I had ever had and I wanted to be like her. Luckily, I am now able to follow in her footsteps.
---
Activities I do outside of class or community service/volunteer activities I'm involved with:
I'm currently not involved in any community service/volunteer activities, but I am actively looking for some to do during my second semester or during the summer. Instead, I am currently working a part time job in a coffee shop in order to save money.
---
Aside from academics, what else do you hope to take away from your time at Maryland?
I hope to be able to experience different things throughout my time at Maryland which I can use to become a better person. I want to talk to a variety of people and be able to learn from them whether they are a professor, a fellow student or staff. I don't want to leave Maryland being the same person I am now. I feel like the Maryland Promise Program is aiding me in becoming a better version of myself.
---
What are your future goals after graduation?
I plan to be an elementary school teacher. I want to be a teacher in a foreign country for a bit so that I can experience a different culture and learn from it. I also want to set up a tutoring program for Latinx students with non-English speaking parents in order to help them with homework and school overall. This would mainly be a side project, but as a student with non-English speaking parents, I am very passionate about this.