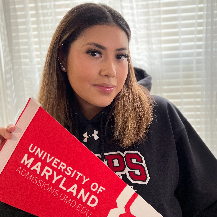 Katherine Rodriguez
Government and Politics / Washington, D.C.
About
What made you decide to enroll at the University of Maryland?
What made me decide to enroll at the University of Maryland is how many opportunities it has to offer and that it provides students with a superb education. I love how many clubs UMD has and how open they all are. I love the fact that it is a diverse college which allows us to have a deeper understanding of everyone's unique personalities. The University of Maryland also offers a lot of majors and minors, which I absolutely love. Lastly, one of my favorite reasons I decided to enroll at the University of Maryland is because of how much service they provide to their students! UMD offers unlimited help and resources that will benefit us as students.
---
What major/career path do you plan on pursuing and how did you select that path?
I plan on majoring in government and politics. Since I was a kid, I have always been interested in politics and being able to see how the world functions behind the scenes. I specifically want to major in political sciences because I would be able to have connections and be able to help people to be in contact with the government or the White House. I selected this path based on what I enjoy the most and figuring out my goals around my path. Politics being my favorite subject throughout these past few years has also favored in me selecting my path.
---
Activities I do outside of class or community service/volunteer activities I'm involved with:
Activities that I do outside of class include playing soccer and running. I really love playing soccer and I play almost every day. I also enjoy running and going to the gym because it is a type of therapy for me and a way to clear my mind. I go on hikes with my dogs and family which I enjoy so much. I plan on doing community service at UMD which I am looking forward to.
---
Aside from academics, what else do you hope to take away from your time at Maryland?
Aside from academics, I hope to have a great experience overall. I can't wait to meet new people and become involved in organizations and have an impact on them. I look forward to attending meetings, games, campus traditions, career services, and more. When I am on campus, I want to make sure I feel at home, including feeling safe around my community. I am looking forward to anything UMD has to offer me!
---
What are your future goals after graduation?
My future goal after graduation is becoming financially stable. I hope I am saving money to get myself an apartment or some sort of condo. I hope to be able to manage my time wisely and not be a shy person any more because I want to come out of my shell. I plan on using my degree for the job I will be applying for in the near future because it's the reason I went to school for four years. I hope to provide for my family and be able to assist them through any financial needs.