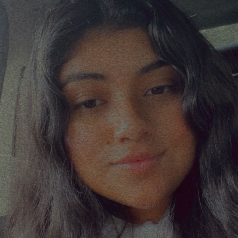 Katherine Romero
Accounting/Business / Rockville, MD
About
What made you decide to enroll at the University of Maryland?
The University of Maryland has the best business school. My first campus visit was on a school field trip where I discovered my dream school. I have always wanted to be a Terp and a graduate with a bachelor's degree. The view and spirit of students on campus bring such good vibes to the community around. UMD was always my first choice and the place where I planned to graduate from. This is the best choice for me as I can stay near home and achieve a great education while also pursuing a career.
---
What major/career path do you plan on pursuing and how did you select that path?
I plan on majoring in accounting with my bachelor's degree and possibly my master's degree. I would like to achieve my Certification of Public Accountant in the future to be able to do taxes for others and help them with their finances. I selected this path based on the different resources I have seen for business majors and people I know who also pursue the same career path. Also, in high school, I received a lot of guidance from professors helping me choose a path that would best fit me. I know two girls who have completed the same path I am in and have become very successful which is what I want to do.
---
Activities I do outside of class or community service/volunteer activities I'm involved with:
During high school, I was involved in Key Club as a treasurer for my second year joining the club. This club is an organization that helps in events and gives an opportunity for students to volunteer while also receiving student service learning hours. Being a part of this club was amazing because we were able to participate in Light the Night Walk for Leukemia and Lymphoma. We helped organize and take down the event when it was over. There was another event where we helped create boxes to put toys in and donate them to children. Since I can remember, I always wanted to remain involved in community service and any activities where help was needed for a good cause.
---
Aside from academics, what else do you hope to take away from your time at Maryland?
I hope to take away not just academics, but also new friendships and experience in my field of interest. I would like to be more connected with the community and use my leadership skills to achieve something great. I would like to take away a great university experience by being involved in activities, clubs, and organizations that help the community. I would like to make a positive impact on something while I attend UMD. Overall, I would like to take away more opportunities to become successful in life from UMD by making connections with businesses and gaining references when I look for my future job.
---
What are your future goals after graduation?
I have many future goals after graduation that I would like to complete. The first goal is to get my career job as an employee for a big company working in accounting and finance management. I would like to be able to travel across the world to meet new people and see new cultures. I would like to use my skills and knowledge from my education to become someone important in life. I plan on giving my parents the opportunity to quit or retire from their jobs while helping them financially.