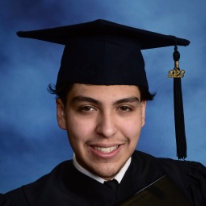 Lester Paz Solis
Biomedical Engineering / Hyattsville, MD
About
What made you decide to enroll at the University of Maryland?
It was a dream of mine since I was a little kid to attend the University of Maryland. My parents weren't graduates, but immigrated from their country to work. I wanted to go to UMD because they wanted a child in college and I wanted to be that child.
---
What major/career path do you plan on pursuing and how did you select that path?
I knew I wanted to pursue a medical career so I chose biomedical engineering as my major. The medical field has been my passion, but I love engineering, so I decided to combine both. I love being able to design and make things in any way that allows me to help others.
---
Activities I do outside of class or community service/volunteer activities I'm involved with:
I want to volunteer in organizing events and I hope to have the opportunity to help the poor and hungry.
---
Aside from academics, what else do you hope to take away from your time at Maryland?
I hope to take away the amazing experience of making friends. It will be amazing to be interact with people from other backgrounds and learn from them as well.
---
What are your future goals after graduation?
I want to go to medical school first and will need to successfully be able to take the MCAT in order to be able to do that. Eventually, I plan to become a surgeon.