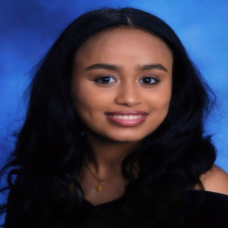 Lidya Zemedebrhan
Biology / Silver Spring, MD
About
What made you decide to enroll at the University of Maryland?
I decided to enroll at the University of Maryland because I felt it was the best match for me. I wanted to stay near home and UMD is very close to home. The campus was another reason I chose UMD. The size is perfect for me and the facilities are great. A bonus reason that made me choose UMD was my college credits being accepted. I have some college credits I earned through a dual enrollment program.
---
What major/career path do you plan on pursuing and how did you select that path?
I am majoring in biology and pursuing pediatrics. From a young age, I always wanted to be a doctor. I struggled with my health. I was grateful for all the doctors and other health care professionals that cared for me. They made a great impact in my life, so I always wanted to do that for other children.
---
Activities I do outside of class or community service/volunteer activities I'm involved with:
An activity I am involved in is Tae Kwon Do. I have been practicing the sport for over 8 years and have a black belt. I am also involved in my church's Sunday School for elementary-aged students.
---
Aside from academics, what else do you hope to take away from your time at Maryland?
I want to participate in clubs that help bring change to the community. I also want to be a part of clubs that encourage and support diversity. I hope to work on being more social and networking.
---
What are your future goals after graduation?
After graduation I want to go to medical school and become a pediatrician. I also want to open clinics in Eritrea and participate in Doctors Without Borders.