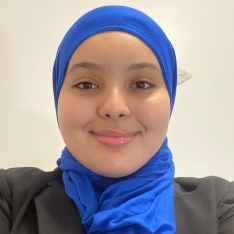 Maha Idsassi
Neuroscience / Laurel, MD
About
What made you decide to enroll at the University of Maryland?
I decided to enroll at the University of Maryland because of the incredible resources the university provides. As a prospective neuroscience major who has a strong interest in the behavioral and molecular aspects of the field, I knew I wanted to attend an institution that would have those opportunities. UMD was able to accommodate both of my interests because, in addition to offering classes in a wide variety of areas, UMD allows students to study a variety of subjects connected to neuroscience.
---
What major/career path do you plan on pursuing and how did you select that path?
My major is neuroscience, and I intend to pursue a career as a medical doctor, either in neurosurgery or as a neuroscientist. My keen interest in the brain and behavior led me to choose this career path. I have always been very curious about the brain, whether it be in terms of understanding why people behave in certain ways or learning about the chemicals that are in the brain. Furthermore, I am confident that I will be able to realize my career ambitions at UMD because of the university's outstanding neuroscience program and research prospects.
---
Activities I do outside of class or community service/volunteer activities I'm involved with:
I serve with the American Red Cross as a member of the Youth Advisory Board Special Events Team. I coordinate seasonal conferences for the entire American Red Cross National Capital and greater Chesapeake region, which attracts 150 individuals. We have weekly meetings to discuss how to boost our attendance at Red Cross clubs and volunteer events. I am also a senior officer of the Environmental Defense Club, where I help facilitate daily recycling meetings. Myself and a small group of other students arrive before school starts every Wednesday to recycle. Not only am I helping the environment, but I am also helping the custodial staff. With a large campus and a student body of around 2,600 students, it is important for students to do their part. Being a part of all these clubs has led me to gain a new sense of what being a leader is and has helped nurture my abilities that make me a capable leader.
---
Aside from academics, what else do you hope to take away from your time at Maryland?
I hope to take away amazing friends and continue to give back to the Maryland community. Whether it be through donations or my time, I want to support UMD similarly to how it has supported me. I hope to be able to form strong bonds with my classmates and lecturers and maintain them in the years to come. I want to make close friends and create beautiful memories with them while helping each other be better versions of ourselves.
---
What are your future goals after graduation?
My long-term objective after graduation is to enroll in an M.D.-Ph.D program at a university like the University of Pennsylvania or Johns Hopkins. While I still want to be a surgeon, I also want to conduct ground-breaking research in the field of neurology. Being an M.D-Ph.D student would allow me to do that. I hope to be able to pursue research that could help define disease causes and lead to clinical research. I am incredibly eager to continue working toward my ambition of being a research scientist who is able to care for patients in a clinical setting.