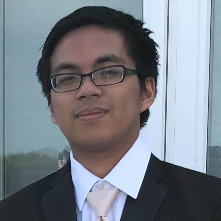 Nicholas Prakoso
Embedded Systems and Internet of Things / Gaithersburg, MD
About
What made you decide to enroll at the University of Maryland?
I decided to enroll at the University of Maryland mainly because it is recognized as one of the best universities in Maryland, especially for engineering and technology majors. The other reasons were that tuition wouldn't cost as much as an out-of-state university and it was a university that most of my relatives attended previously or are currently attending.
---
What major/career path do you plan on pursuing and how did you select that path?
I plan on pursuing a major in embedded systems and internet of things (ESIOT) and I ended up selecting this path because of my love for technology. For the longest time, I've loved interacting with technology of old and new. I figured I would pursue a major in engineering because it's what I was passionate about and ended up finding ESIOT as the major I would pursue after attending multiple informational meetings.
---
Activities I do outside of class or community service/volunteer activities I'm involved with:
Outside of class, I normally go to the gym to exercise and stay fit, but the amount I go usually lessens during the school semester since I'm normally preoccupied. Additionally, I work as a barista at One Tea House whenever I can to earn money as I attend university.
---
Aside from academics, what else do you hope to take away from your time at Maryland?
Aside from academics, I hope I will be able to create long lasting relationships with my peers that continue even after graduation. In addition, it would be great to obtain experience in my field of study through internships that I can get by asking for assistance from coordinators of ESIOT who can help me in finding a career after graduation.
---
What are your future goals after graduation?
After graduating my plans are not concrete, but my goal is to find a job with a stable source of income to be able to support myself and my family for a couple years. Then, I plan on going back for my master's degree.