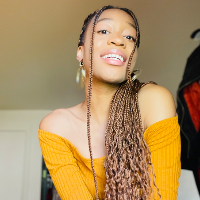 Precious Offorji
Public Health Science / Randallstown, MD
About
What made you decide to enroll at the University of Maryland?
I chose the University of Maryland because it is a global leader in research which was important to me because I too am very interested in conducting research, particularly within the sector of health disparities in the United States. With the University of Maryland boasting such an esteemed public health program, I believe I will have many opportunities to explore that interest. Outside of the classroom setting, I really fell in love with the student involvement at the University of Maryland. The university hosts a plethora of different dubs/extracurricular activities for students to get involved with. Being a Nigerian-American, I personally felt very drawn to the African Student Association at UMD dub that explores the many diverse cultures of Africa. Lastly, the alumni network at the University of Maryland really drew me to the school; knowing that there is already a built-in support system, even after I graduate from the school, was very compelling.
---
What major/career path do you plan on pursuing and how did you select that path?
I plan on majoring in public health science because I am very passionate about health disparities and how different socio-economic factors unfortunately affect the level of healthcare provided to an individual. For example, Black women are two to three times more likely to die from pregnancy-related causes in comparison to their white counterparts as found by the nation's own CDC. Statistics such as this are appalling and I believe change needs to occur. I want to use my degree to go to medical school and become a physician so that I can use my experiences as an African American individual to meet the social and cultural needs of African American patients who often go underrepresented within the healthcare space. I want to make sure their voices are heard and valued so that they may receive the quality medical treatment they deserve.
---
Activities I do outside of class or community service/volunteer activities I'm involved with:
In high school I participated in the following: Girl's Lacrosse, Model United Nations, Future Business Leaders of America, Student Government Association, National Honors Society, Girl's Soccer. I also volunteered at a summer camp as a camp counselor as well as participated in a community service organization at my high school by the name of Students Against Destructive Decisions. At the University of Maryland I plan on becoming an active member of the African Students Association, Charles R. Drew Pre-Medical/Health Society, and American Medical Student Association.
---
Aside from academics, what else do you hope to take away from your time at Maryland?
Aside from academics I hope to take away lifelong friendships, and, being that there are so many different people that attend the school, I believe I will accomplish that desire. I also hope to form amazing memories such as attending sporting events, exploring the surrounding area like Washington DC, and learning about different cultures.
---
What are your future goals after graduation?
After graduation I plan to enroll in a medical program to pursue my dreams of becoming a physician. I aspire to be an obstetrician/gynecologist or a neonatologist; I really find the birth of human life to be very fascinating and beautiful so I would love to work within that field of healthcare.