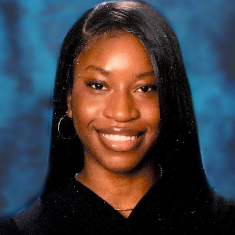 Rosabella Mvemba
Cinema and Media Studies / Baltimore, MD
About
What made you decide to enroll at the University of Maryland?
What made me enroll at the University of Maryland was the big campus size, the close proximately to Maryland and Washington D.C., and the close distance from home. UMD is practically its own city and I appreciate that there are so many places for me to go to study, make new friends, or be inspired to create something regarding my interests. Along with the big campus size, I have even more access to opportunities both in Maryland and Washington D.C., so I can explore different places relatively nearby. Although I love the time away from home, my parents being about an hour from me gives me comfort whenever I run into an issue.
---
What major/career path do you plan on pursuing and how did you select that path?
I am majoring in cinema and media studies, and I plan to become a filmmaker and educator with my degree. I chose this path because I have always enjoyed creating videos and storytelling and I want to learn how to become a better communicator through film. Also, I have recently begun my self-care/love journey so I want to teach others to do the same as an educator or with a lesson I provide in my films.
---
Activities I do outside of class or community service/volunteer activities I'm involved with:
Outside of school, I enjoy scriptwriting, drawing, and exploring nature. I took a course in scriptwriting my senior year of high school and learned I can expand my interest in film outside of cinematography and editing. I now hope to write and direct my own film. I enjoy writing about ideas that come to me through the day or in my dreams. I like to draw when I am bored or think of an idea of something to draw. I hope I can dedicate more time to it and expand to painting. As a kid I used to go outside every day with my sister but as I got more interested in technology that stopped. When the pandemic happened and I was sick of being in the house, I started going on walks around my neighborhood. It's a nice way of staying active while also discovering the things and life around me.
---
Aside from academics, what else do you hope to take away from your time at Maryland?
At the University of Maryland, I hope to build a community with people with similar interests as mine, challenge myself, and explore different opportunities. I find when I am around those that have a growth mindset and similar values I prosper and feel more comfortable expressing myself. And with a growth mindset, I understand that I will have to evolve mentally and take on challenges that will prepare me for my future. But if my plans change, I know I can lean on the dozens of opportunities I took on while at the university.
---
What are your future goals after graduation?
After graduation, my goal is to work on a film set, create my own film/work as a director for a film company, and embark on another career interest. My main passion is to be in the film industry creating my own scripts or helping others with their projects, but I have many interests and want to ensure I am trying new things and seeing where they take me.