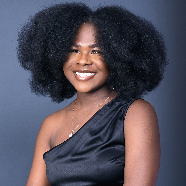 Sarah St. Villier
Public Policy / Burtonsville, MD
About
What made you decide to enroll at the University of Maryland?
Being accepted into the Public Leadership Scholars Program and being able to major in public policy played a significant role in my decision to attend the University of Maryland. I've always been interested in being involved in my community in a law-based career, and I think majoring in public policy would help me in that journey. Additionally, being in the Public Leadership Program, which focuses on current events and policy issues, allows me the opportunity to explore the theory and practice of leadership.
---
What major/career path do you plan on pursuing and how did you select that path?
On Friday nights, I'd watch Law and Order SVU with my cousin. As I saw the show, I'd watch the Assistant District Attorney, Alexandra Cabot, gracefully, but sternly question the witness that's on the stand. Though she didn't look like me, I'd imagine myself in her shoes finding any legal strategy that would work in the best interest of my client. Women like her, and our new Supreme Court Justice Ketanji Brown Jackson, who are accomplished in the legal system, have always inspired me to chase my dreams of becoming a lawyer.
---
Activities I do outside of class or community service/volunteer activities I'm involved with:
A few summers ago I spent my time engaged in a program called Therapeutic Recreation that was created by Montgomery County Recreations. Through this program, I was able to meet a little boy named Umar who had a cognitive disability. My experience with him revealed to me my bias and my constant need to shelter people who I perceived as an "other." Since then I've gained interest in the way that our social setting and environments impact the way that we perceive people. My experience with Umar helped me discover my love for sociology and the ideas of how your social setting and our status could impact our perceptions of people. Throughout my high school career, not only have I participated in the local community, but I've also been involved within the school community. I have volunteered with my school's marching band, jazz band, and symphonic band in order to host and decorate competitions and other musical events.
---
Aside from academics, what else do you hope to take away from your time at Maryland?
While at Maryland, I hope to find those lifelong friends that I always hear people meet during college. I'm excited to make memories that I can look at ten years down the road and laugh at. I am thrilled to meet amazing professors that could hopefully become my mentors in the future. But most of all, I look forward to meeting a new family at UMD.
---
What are your future goals after graduation?
After graduation, I plan to attend the University of Maryland Francis King Carey School of Law. I've always had dreams of becoming a lawyer. I believe that attending the law school at the University of Maryland would provide me the chance of accomplishing that goal. With UMD's law school having one of the best and largest clinical law programs coupled with my never-ending interest in my community, I'm confident that I'd truly excel by attending the law school.