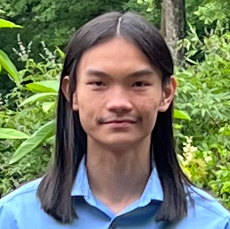 Vu Truong
Mechanical Engineering / Ho Chi Minh City, Vietnam
About
What made you decide to enroll at the University of Maryland?
I initially decided to enroll at the University of Maryland because it is one of the most affordable options for low-income families like mine. But, upon further assessments, I realized that the undergraduate education, especially for an engineering major, is as good as you can get anywhere in the country. With how diverse the UMD campus is, I'm confident that I can learn from peers and faculty to become a more well-balanced student. I'm sure that I can make valuable relationships during my time here. Another factor that drove me toward my final decision was the famous research facilities at UMD. I was hoping to do research during my time as an undergraduate student, and UMD offers me the ideal environment to research and develop my skills as an engineer. These reasons are the ones that make UMD the perfect setting for me to become the best engineer and also the best human being that I can be.
---
What major/career path do you plan on pursuing and how did you select that path?
I chose to major in mechanical engineering due to my constant curiosity about how things work. From Legos to computers and small electronics, I've always loved tinkering with them and trying to learn how it was designed or made. Additionally, being a big fan of motorsport, with series like Fl, WRC, endurance racing, etc., I have witnessed thousands of talented engineers across the globe coming up with some of the most groundbreaking innovations as they push to gain an edge over their competitors, which inspired me to become an engineer.
---
Activities I do outside of class or community service/volunteer activities I'm involved with:
For the past three years in high school, I have been a member of the STEM club, where I represented my school in the APL MESA competition. Our team placed second at the state competition in the two challenges in which I competed. More recently, my friend and I co-founded Mechanical Keyboard Club at school. Through weekly lessons on our niche hobby and physically constructing a little keyboard (macropad), we hope that we can spark interest in the STEM field. Outside of school, I volunteered with a food bank for the past year to alleviate the impacts of the COVID-19 pandemic and food insecurity in my area, where I helped pack and distribute food and other essentials for local families in need.
---
Aside from academics, what else do you hope to take away from your time at Maryland?
During my time at Maryland, I hope to make valuable connections with students, faculty, and even industry leaders as I begin to set foot in the professional world. With these connections, I hope to become more outgoing than my usual quiet and timid self and broaden my knowledge and perspective to become a more well-rounded person. Moreover, I also wanted to transform my education into practical skills through the plethora of internship opportunities at UMD. I know that when I graduate, my priceless experiences at UMD will ensure that I will be physically, mentally, and socially prepared for the professional life ahead.
---
What are your future goals after graduation?
After college, I plan to get involved with the automotive industry, whether with a traditional automotive company or a racing team. I want to be at the forefront of technological advancements amidst the push for electrification. I hope to lead the way in improving battery and self-driving technologies, whether it be by increasing battery capacities and charging capabilities of EV s, improving vehicle aerodynamics, or increasing vehicle efficiency and safety. Along with my career goals, I hope to be able to travel around the world and engage myself in various cultures, which I believe will ignite my creativity and problem-solving skills. If possible, I would like to get my master's in either mechanical engineering or aerospace engineering due to my fascination with aerodynamics which probably stemmed from racing series such as Formula 1 and World Endurance Championship (WEC) and airplanes.